| | | | | | |
| --- | --- | --- | --- | --- | --- |
| Mongolia Overland Trips | Mongolia Horseback Riding Trips | Mongolia Trekking and Hiking Trips | Mongolia Gobi Desert Trips | Mongolia Cultural Home-Stays | Film and TV Production Support |
You are on your way to becoming a responsible explorer, cultural ecotourism ambassador and change-maker!

Safety and Expertise via Sustainable GeoTourism Agency

In 10 years, well over 6,000+ international travelers have been trained and traveled Responsibly across Mongolia;
GER to GER continues to maintain its rural health and safety scorecard at 99%+ Success!
What is GER to GER?
Hi my name is Mr. Zanjan Fromer (professional filmmaker, marketer, industry specialist, social economic developer and humanitarian) USA Alaskan Native and Founder/CEO of GER to GER Agency and Foundation, I operate nationwide ecotourism initiatives across Mongolia with my long-time partner and co-founder, Ms. Bayarsuren Yalalt (industry specialist and humanitarian), we offer individual trips, packaged trips and special interest trips that are eco-friendly with the mission of sustaining the destinations. We are specialized in providing a truly unique method of experiencing Mongolia; travelers will receive a pre-departure Responsible Travel training workshop before their overland expeditions and/or nomadic family centered, point to point, cultural eco adventure with Mongolian nomads across vast geographical terrains (deserts, mountains, river valleys, steppes, etc.) by horseback, camels, ox carts, trekking and more! As a team we have successfully established nationwide community-based ecotourism travel routes that extends 11,000 square kilometers (7,000+ miles) across 10 Provinces or States of Mongolia's geographical terrains.
Imagine how the ancient explorers of the past traveled the globe i.e. Marco Polo, Roy Chapman Andrews, etc., the raw sense of cultural immersion with the locals, the adventure and excitement of the expedition! That's GER to GER, a fusion of ancient and modern day experiences; an ancient nomadic lifestyle existing in a remote corner of the world in-between Russia and China. GER to GER responsibly shares knowledge with the locals and all travelers (pre-departure) to ensure that as you travel with the nomads across vast geographies that includes deserts, mountains, river valleys, open and vast Mongolian Steppes, your travel mentality is that of an early Explorer; rather than your standard "Tourist" or "Backpacker". This sort of trip is perfect for those travelers wishing to experience travel like a Mongolian and immersing themselves into their daily nuances (lifestyle, etc.) like the early Explorers. GER to GER is suitable for avid adventurers, humanitarians, individuals, couples, groups and families both young and old that are wishing for a unique local adventure that will take you along an itinerary but also has the flexibility to take you on those unexpected cultural and exploring detours which makes it often a more authentic cultural ecotourism experience.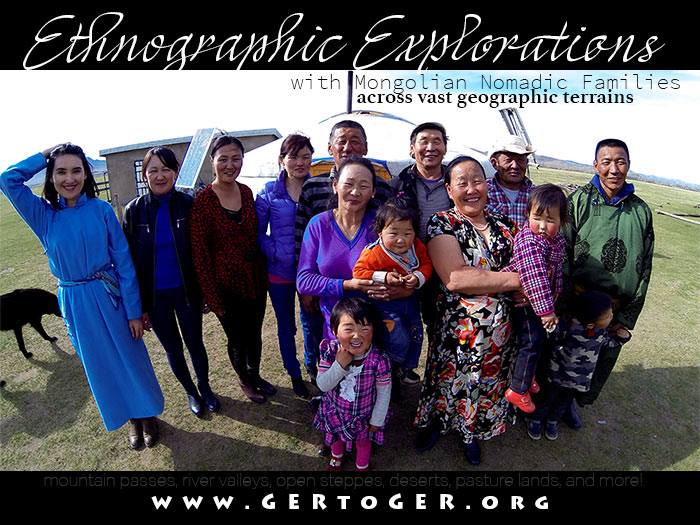 What to Expect from GER to GER as a Social Enterprise
Genuine Nomadic Families – The "Real Deal"; Humans living their lives the Ancient Way in remote rural locations
Custom Itineraries Designed Around Nomadic Lifestyle – Minimize our impact
Authentic Cultural Immersion – Become an Ethnographic Explorer, experience their lifestyle their way
Professional Knowledge Sharing with Real 'Field' Experts – 20+ years overseas humanitarian experience and more
A Humanitarian Approach to EcoTourism – We invest and foster human capital
Ethical Revenue Sharing with Rural Communities – We advocate non-exploitation, everyone is a stake-holder
and much, much more!
Are You Ready to Explore Mongolia!
Here a few Featured Packages to get your started…
Finances from trips helps support our Humanitarian and Social Economic Development Initiatives
You are only a few clicks away from amazing cultural eco adventures along nomadic travel routes across the Gobi Desert, vast open Steppes, river valleys and mountain passes by horseback riding, camels, ox carts, trekking, visiting home-stays and more with nomadic families across Mongolia.
Be Culturally Smart, Travel Locally Smart and
Globally be a Humanitarian!
Mongolian Proverb "A Person with a Tongue is a Person with Feet"; If you speak with comprehension you will go far
Mongolian Proverb "If the Master Endeavors, Destiny shall Endeavor"; Strive for life and Life will strive for you
ETHICALLY SHARING TOURISM REVENUES WITH RURAL COMMUNITIES and NOMADIC FAMILIES ACROSS MONGOLIA
More than a million dollars have been directly injected into Mongolia's local economies, 100s of human resources across the country have been trained and new job markets created by our social economic value and supply chain advancement methodologies via Sustainable GeoTourism.
[ Download our Humanitarian Brochure ]



Over a Decade of Corporate Social Responsibility (CSR) Travel to Support Rural Nomadic Families Across Mongolia