REAL.geographic adventures –

EXPLORE MONGOLIA!
"Art, Culture and Adventure Packages – Do More/Pay Less!"
Packaged Overland Tours and Expeditions (travel method and benefits): Packaged Trips are custom designed for people of different backgrounds and interests; which includes: active adventurers, soft adventurers and even first-time adventurers who desire a good mix of city-like travel with some adventure. Our leisure trips are specially packaged for your market that thoughtfully combine Mongolia's nomadic lifestyle with the diverse spectrum of geographic experiences (terrains, historical sites, etc.) all of which are escorted by a professional guide. These trips move at a slower pace and you have more time to explore, experience your surroundings and get to know the local people. The social-economic benefits from these trips directly funds our sustainability and our social economic development initiatives (United Nation's Sustainable Development Goals etc.) within Mongolia and abroad which you can read further about on our website.
Group sizes:
min. 2 persons/max 6+ persons
contact us directly if your group is 6+
discounts available for large groups
prices are per person (p.p.)
Feel free to "book as guest" at NO costs
Deposits will secure your trip
REAL.lifestyle adventures –

LIVE LIKE A LOCAL!
"Experiencing Cultural Fengshui by Exploring Cultural Diversity"
GER to GER cultural adventures are an "in-depth self exploration of reality" that will take YOU across vast deserts, mountainous river valleys, incredible steppe lands, and even across Ulaanbaatar City to explore the imperfect perfections of nomadic and urban lifestyles. You'll have 100% REAL.experiences as some of our nomadic families are traditional while others are meshing their lifestyles with today's world; it's a REAL.mix of families who are both shy and distant as well as full of energy and hospitality…  YOUR goal is to experience both, try to comprehend and navigate these mixed environs skillfully like Marco Polo – well at least try too.
NOTICE TO ALL "LOW BUDGET TRAVELERS" (LBTs)
It is mandatory that all "Low Budget Travelers" (LBTs) review the information on our "Term and Conditions" Page (link below) before booking and/or visiting our office in Ulaanbaatar to book trips with local nomadic communities.
https://www.gertoger.org/ger-to-ger-mongolia-trips-terms-conditions-notes/
Thank You
SPECIALIZED CITY EXPERIENCES WITH MASTERS
Imagine having access to the Masters of Archery, Calligraphy, Asian Brush Arts, Khoomei, Horse-head Fiddle, and more… NOW YOU DO!  Join our Master Experiences and uniquely explore Ulaanbaatar City!
At GER to GER, we are 100% local-oriented GEOtourism Agency… with local assets across Mongolia; nomadic families, communities, honored human resources, masters of the arts, masters of music, masters of archery and more… GER to GER's Cultural Ambassadors and Master Instructors are opening the doors into worlds not commonly experienced NOR accessible to international travelers.
"KEEPING GEOTOURISM
100% LOCALLY REAL"
REAL.adventures,
REAL.cultural explorations,
REAL.lifestyles,
REAL.people,
REAL.situations,
REAL.experiences!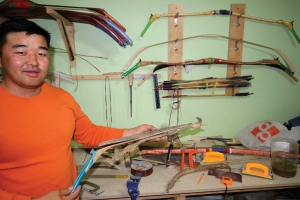 Ulaanbaatar City Tours – Legendary Art of Mongolian Archery This Ulaanbaatar City Tour is aimed at learning Archery with a State Recognized Mongolian Archer who
Read More »