GER to GER Eco Adventures Film! Mongolia – Overland, Horseback Riding, Camel Trekking, Trekking | Trips, Tours and Expeditions
You are on your way to becoming a responsible explorer, cultural ecotourism ambassador and change-maker!
Safety and Expertise via Sustainable GeoTourism Agency
In 10 years, well over 6,000+ international travelers have been trained and traveled Responsibly across Mongolia; GER to GER continues to maintain its rural health and safety scorecard at 99%+ Success!
GeoTourism Travel Style – Ethnographic Exploration
Click here to learn what is National Geographic Society's Definition of GeoTourism?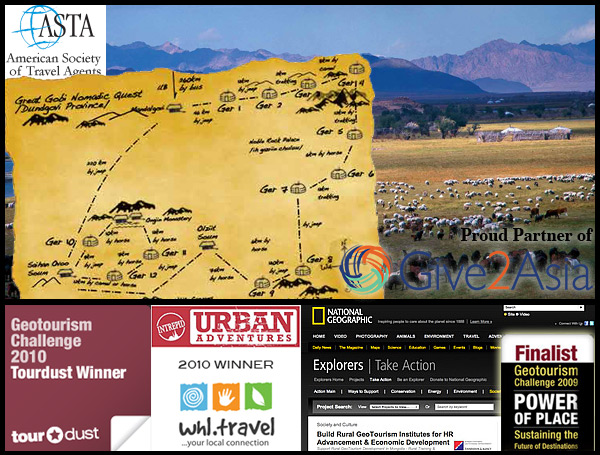 Welcome to GER to GER Mongolia!
Mongolia's First Internationally Awarded Nationwide Sustainable Geotourism Travel Agency/Operator (CSR) offering community based cultural ecotourism routes that allow you to travel like early explorers i.e. Marco Polo or Roy Chapman Andrews from nomadic family to nomadic family across vast and epic geographical terrains as done since the ancient days; before and after Mongolia's Great Emperor, Chingis Khan. In addition to our nomadic routes, GER to GER offers soft adventure travel packages, professional film and tv production logistics that includes all pre-production, production and post production logistical support.
We are 'the' industry professionals – filmmakers, explorers, social economic developers and humanitarians that design travel experiences for 'Ethnographic Explorers'. Ethnographic Explorers are those that wish to have deeper genuine and intimate cultural experiences (as the locals truly live and interact with their environs) than standard sightseeing tourists or travelers; they are the ones seeking unique cultural adventures that are more closely associated with the destination they visit.
ESTABLISHED INTERNATIONAL CREDIBILITY – A DECADE OF HONORS and RECOGNITIONS