Choose Your Style or Service…
"Open Ocean" Humanitarian Style or "Outfitted" Packaged Expeditioner
Humanitarian
Trips

Packaged
Trips

Homestay
Trips

Winter
Trips

Film TV
Support

Flights & Trains
What Makes GER to GER Unique?
We are Professional Humanitarian Explorers that focus on Cultural Immersion Trips and Packaged Expeditions
Based upon 20+ years and 100s of expeditions and social economic development works (in Mongolia and around the world), GER to GER is spearheading an "Open Ocean Approach" towards respectfully exploring cultures and remote geographies as a humanitarian. It's our mission to bring about a holistic methodology towards sustained social economic development as culturally sensitive ethnographic explorers, cultural ambassadors and social economic developers. GER to GER offers a professional "humanitarian" training that includes: history, cross-cultural comprehension, ethnography, a variety of risk mitigation assessments, health, safety, navigation, language, etc.; in short, its a great refresher for experienced professionals and a fantastically intense learning curve for beginners.
Two Main Travel Styles
1. "Open Ocean Diving" Styled Humanitarian Trips
Our Humanitarian Trips focus on "Non-Sea World" or "Non-Captivity Tourism" methodologies with local nomadic tribes and communities; which means you'll been trained on how to go with the local flow and its time to go all out local native or "Open Ocean"; you are taught how not to damage the coral reef (Mongolia) and respect its ocean-wildlife (nomads, etc.). In the "Open Ocean", as responsible divers, we do not unethically force our western/european tourism standards/entertainment demands on the coral reef and its ocean-wildlife – but rather via educational preparation we respectfully explore and learn about "Mongolia's Nomadic Culture/Lifestyles" in their natural situational environments. All Humanitarian Trips are 100% influenced by your "LOE" (Level of Effort) with the locals, those who make a more positive effort to respect the "Open Ocean Ways" will have more success than those who do not try.
Fairness Disclaimer: it's the disrespectful "Sea World Divers" who intentionally try to stir-up trouble in Mongolia and online (they respresent .002% out of 6,000+/- clients over 10+ years) that unethically scrutinize both the instructors and the open ocean-wildlife in their natural environs (and actually tried to destroy the coral reef and its ocean-wildlife – mainly centered around 2013 as for the last few years we have been working on this matter); the open ocean-wildlife were not excited about fulfilling a handful of people's "captivity styled Sea World dramas, schedules, expectations…". Even in the open ocean, regardless of the instructors' efforts, if you disrespect the coral reef and the ocean-wildlife or didn't pay attention to the currents (traditions, etc.) – you will not have the trip you desired and it's not really ethical to complain about it later; as the 'Level of Results' (LOR) is based upon a given traveler's LOE – client LOEs/LORs have no association with GER to GER Office Staff, Instructors, etc., as humanitarian travelers are independently traveling with the locals in their environs – hence "Open Ocean".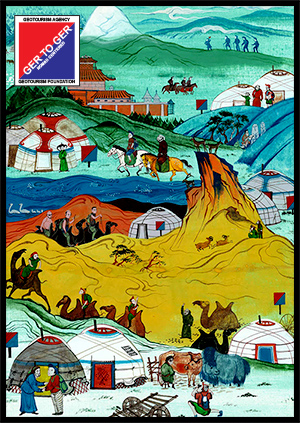 Humanitarian Trips a.k.a "Open Ocean" (Community Based Tourism Routes) – Though simple and humble, they are designed to be 'value for money' as these trips grant travelers unparalleled access into nomadic lifestyles while locals earn ethical incomes by providing all food, accommodations, transportation (horses, camels, ox carts, etc.), activities, and more. They are designed with the rural communities to provide unique insights into nomadic lifestyle – great for culturally "responsible" travelers, explorers and travel photographers; generally, anyone who is interested in real cultural immersion and enjoys the flexibility of local-flows in outback travel and non-touristic method of adventure travel. Note: All Humanitarian Trips and Homestays are 100% managed and operated by locals and nomadic families; GER to GER Office operates ONLY AS A Humanitarian "Travel Agent" for communities (non-tour operator). 
2. "Outfitted Expeditioner" Styled Packaged Trips
As for our Packaged Trips, these are for those that enjoy more of a western/European approach, comfort, times, schedules, standards, etc., of travel but still want to support a humanitarian-approach without going 100% local native.
Fairness Disclaimer: these trips operate fantastically well for those that desire a mix environment that provide more than our Humanitarian Trips; GER to GER has over a decade of successes with a broad-range of international clients ranging from 'every day Joes' to international VIPs.
All Inclusive Expeditions a.k.a "Going All Out Expeditioner" (Packaged Trips) – designed, managed and operated by GER to GER Office as a Certified Tour Operator across Mongolia. GER to GER designs it itineraries with a unique approach as we strive to combine the best of 'off the path' and Mongolia's traditional highlights; sometimes we'll include some of our rural community-based tourism locations into our itineraries! GER to GER's professionals have been operating throughout Mongolia for a couple decades managing everything from film/tv productions, humanitarian and social economic development initiatives and more; it's from these experiences that we bring you Mongolia. Note: These are all-inclusive trips and tours that are outfitted with interpreters/guides, drivers, jeeps, etc., that combine the best of outback exploration and leisure travel – these itineraries are designed, 100% managed by GER to GER Agency (tour operator) and carried-out in accordance with the requirements of western/European travel requirements and expectations. In 2015, GER to GER received highest recognitions via its international partnerships on client satisfaction.
IT'S OUR PASSION THAT OPENS THE DOOR of MONGOLIA
"Yes, statistically GER to GER has a well-proven history as one of the world's premiere examples of community based tourism, destination development and ecotravel with all the due diligences, recognitions, honors, awards and financial records to prove we lead the way in 'giving back' to rural nomadic tribes and communities. However, today we would like to express something quite different – we would like to highlight "our passion" as humanitarian explorers.
Owing to our humanitarian/community based tourism approach and countless sacrifices over the last decade, one can only imagine our endeavors have been full of adventures and countless learning experiences. GER to GER as a 'social enterprise' has expanded its operations towards fostering rural inhabitants and nomadic tribes to become equal stakeholders by proactively developing their capacities and skills in community based ecotourism; thanks to the initial in kind-support of the Swiss Agency for International Development/Cooperation and USAID. Today, locals are becoming the protagonists of social economic development and in conservation/environmental initiatives. After a decade of successful operations, GER to GER has become one of the world's longest lasting testaments of how Responsible Tourism can be developed, operated and sustained 100% by local inhabitants.
After 10+ years, our nomadic tribes and rural communities throughout Mongolia have learned a lot and are starting to provide unmatched "non-genetically modified" travel expedition services that are truly inherent of Mongolia's nomadic lifestyles. GER to GER is truly a successful union of Mongolia's ancient ways of exploration and today's desire for more socially and economically responsible active adventure travel and exploration.
We kindly desire to invite you all to experience both styles of travel from our humble Humanitarian Trips to full-fledge expedition style trips that offer the best of the both worlds; rural communities and the highlights of Mongolia in comfort."
Mr. Zanjan Fromer, Founder – on behalf of the GER to GER TEAM
Houston…
We have Success!!!

OPERATIONAL HIGHLIGHTS

GER to GER's Community Based Tourism Initiative is one of the World's first sustained 'Social Enterprises' that is 100% rurally managed with an operational history longer than a decade.
99% of GER to GER's human resources are all rurally based.
GER to GER has trained 1000s on Responsible Travel; locals & internationals.
For over a Decade GER to GER

 

maintains over 99% Safety Record.
GER to GER generates the most incomes for rural nomadic tribes and communities across the country; with the supportive documents.
98% of clients state that hospitality, traditional customs and travel safety was excellent.
Most choose GER to GER for unparalleled access into nomadic lifestyles, being 'value for money' and supportive of rural communities.
Over a Decade of Successful Due Diligences, Recognitions, Achievements, Honors and Partnerships
Emmy and DGA Awarded "The Amazing Race"
Professional Production Management and Fixer Support for International Documentary Films and Reality TV
Mr. Zanjan Fromer of GER to GER is also a film-industry professional and provides international-level film and tv production logistics that includes all pre-production, production and post production logistical support; CBS's The Amazing Race – Season 10, Episode 2 was awarded both an Emmy and the prized DGA (Mongolia – Overall Country Production Fixer/Point Person – short-list of Mr. Zanjan Fromer's duties: all research and scouting/ location(s) lock-downs/ all production locations (ground/air) setups/ management/ production paperworks/ contracts/ sub-contracts/ all local budgets (and wrap-ups)/ support/ all production logistics and coordination – local HR to Production VIPs and Executive Producers/ secured communication networks/ safety; security/ first responders/ talent/ and etc. Local Nomadic Talent: GER to GER Nomadic Families) – Click here to visit the official online IMDb Listing , etc.
Mr. Zanjan Fromer – Professional Portfolio Website
GER to GER Experts are indeed internationally recognized multi-industry professionals – filmmakers, explorers, social economic developers and humanitarians that design travel experiences for 'Ethnographic Explorers'. Ethnographic Explorers are those that wish to have deeper genuine and intimate cultural experiences (as the locals truly live and interact with their environs) than theme-park sightseeing tourists or travelers; 100% controlled environments.
So you've read this much…
Are You Ready to Explore Mongolia!
Here a few Featured Packages to get your started…
Finances from trips helps support our Humanitarian and Social Economic Development Initiatives