"simply… just be GOOD humans"
Please understand that Mongolia's nomadic populations are slowly developing their capacities – it takes time… So, go with the flow."
When considering a trip with GER to GER please do consider your past experiences as it will influence your expectations… 
Trip Suitability Question 1 – Do you enjoy NON-RIGID itineraries/experiencing travel like old school explorers (changes to: times, activities, etc.)? YES/NO and why…
Trip Suitability Question 2 – Do you have any rural countryside/bush/outback travel experience (deep rural lifestyles, cultures, terrains, etc.)? YES/NO and details… 
Trip Suitability Question 3 – Do you ENJOY LEARNING about foreign histories, cultures, lifestyles, languages, outback navigation/safety, etc.? YES/NO and why…
Trip Suitability Question 4 – Do you ENJOY being pro-active/independent vs. passively waiting for everyone to serve/take care of you all the time? YES/NO and why…
If you are a "Quadruple NO" then we encourage you to consider our Tour Operations "Overland Expeditions" instead of humanitarian trips with nomadic families.
Choosing the Right Trip "for You"
This can be a difficult task at times for some – I always recommend the following:
Do a lot of online research in advance.
Don't just refer to online reviews – as its internationally known even the best online travel forums are having serious global issues concerning Anti-Trust, Fraud, etc.; fake reviews, etc.
Prioritize your trip via your "interests" – understanding what you want to gain from the experience will define your company, activities, travel methods, etc.
Try contacting the company or potential companies that you are interested in – ask your insightful questions that are associated with your interests to better understand if this is the company or organization that you want to support and travel with.
Choosing a company is like choosing a relationship – the more attention you invest into establishing good communications enhances the quality of your experience.
GER to GER Packaged Trips and Solo Independent Trips
At GER to GER we pride ourselves on developing both "on and off the beaten path" eco adventures that aim at enriching your overland experience. Though Mongolia is vast and sparsely inhabited with its highlight destinations be spread around the country – we fill-in the gaps and create 'win-win' environs for travelers and rural inhabitants via our community based tourism initiatives thought Mongolia.
Please kindly note that our "Solo Trips" are 100% community based tourism routes with nomadic families, and our "Packaged Trips" are all inclusive with guide, driver, etc., for leisure travelers desiring to support our humanitarian works while having a great vacation in Mongolia.
In short, GER to GER Packaged Trips offer you the unbeatable combination of uncommon nomadic real life adventures and the diverse spectrum of geographic overland expedition escorted by a professional guide. Solo trips and winter trips focus on location specific interests, such as trekking, horse riding, camel riding, or participating in cultural events and nomadic lifestyle; these trips move at a slower pace and you have more time to explore your surrounding locations and get to know local people.
Nevertheless, GER to GER has carefully carried out workshops throughout Mongolia with nomadic families and rural communities in order to custom tailor community-led travel itineraries and services. All of our trips are designed to maximize your time for cultural immersion, outdoor activities, sightseeing, and … having a amazing outback adventure!
Lessons Learned – Key Factors of Successful GER to GER Trips; 95%+ of All International Travelers:
Asked a lot of questions and tried to understand
Actively participated in the pre-travel workshop and is respectful to the instructors
Purchased a English-Mongolian, Mongolian-English Dictionary prior or upon arrival in Mongolia
Open Minded
Enjoys the outdoors and understands Flexibility is required.
Team Player
Travels as an Ethnologist Explorer of Cultures rather than "Are we there yet?", "These people are boring", "Do I really have to wait for the weather?", etc., – 100% Cultural Expedition Killer Tourist; if that's your style of travel, then off you go  😉
Able to focus on the good in situations and in people rather than the negatives.
Exploration isn't just about sticking to the itinerary (minute by minute) but rather enjoying the journey and all those quirky unplanned "spices of life" experiences along the way.
Overall a good human being.
Etc.
Lessons Learned – Key Factors of Unsuccessful GER to GER Trips; Less than 5% of All International Travelers:
Didn't ask any questions but rather just assumed everything
Really doesn't want to participate in the workshop and prefers to harass or disrespect the instructors
Didn't purchased a English-Mongolian, Mongolian-English Dictionary prior or upon arrival in Mongolia
Not respectful of anyone but themselves
Not interested in learning
Not interested in culture
Not interested in being flexible
Not willing to consult
Not a team player
Everything must be timed to a McDonalds like menu service schedule or they become easily frustrated and upset
Expecting Mongol Nomads to "Dance and do Dramas" or adhere to Western/European standards of entertainment
Making mountains from pebbles – explosive ultimatum type personalities
Chronic complainers and expedition sabotagers – offline and online… the complaining never stops
Etc.
I think you are starting to get the gist of the lists.
GER to GER Focuses on Small Groups
Ger to Ger prefers smaller groups. Traveling on a small group holiday is more flexible and allows you to be less conspicuous.  You travel and eat with the local people, stay in smaller and visit places inaccessible to larger groups. In a small group, it's much easier to get off the beaten track, meet with people and experience authentic local life. Not only does this minimize our impact on the environment, it also makes for a better, more inspiring experience for you.
How and When to Book Ger to Ger Trips
Early booking is highly recommended to ensure that you get the trip you desire to travel on. We do have basic group limitations 1) herder families' capacity 2) existing bookings – if we have other bookings on your date, you may join those groups if your initial trip didn't meet the minimum requirement and/or is already maxed out. If that is the case, GER to GER will send you alternatives that you may consider. Once we receive your advance booking confirmation we will provide a receipt of your deposit via a booking confirmation email.
GER to GER Communications in the Outback 
If you do use GSM phone, it will work in Mongolia if you have international roaming covering the region (typically its good to set it to SMS roaming, as its more reliable for communication than calling). However its always good to have a backup, we do recommend purchasing a local SIM/chip – signal strength varies outside of main points but you will be able to get a signal in Ulaanbaatar, its surroundings, the provincial capitals, and towns (soum centers).
Health and Safety Communications
During trips to remote locations, our nomadic families are equipped with cell phones and providing health and natural disaster assistance and evacuation during emergencies. GER to GER coordinates emergency evacuation services with all required authorities including emergency medical services, travel insurance providers, etc., in Ulaanbaatar and abroad. At all times, our Ulaanbaatar based staff is available to assist in emergency and problematic situations. GER to GER is proven as a dedicated organization that works around the clock to ensure that all travelers' health and safety are adequately ensured via our rural/city networks in a timely manor.
Weather Related Communications
Less disastrous situations, sometimes mother nature doesn't always cooperate with our itineraries, and part of the quirky charm that is travelling in a place like Mongolia is that your vehicle, or even your airplane may get stuck in mud, the local lams may consult the moon and decide to move a festival date by a couple days, or you may happen upon an unexpected celebration in a village that just can't be missed. Don't worry, our field and office staffs are always in contact via mobile phone or other mysterious means, and we will make adjustments accordingly in order to assure your safety and enjoyment.
The following information should give you a good idea of how Ger to Ger trips are run. For more detailed information about a particular trip, we encourage you to contact us.
International Baggage Related Travel Information
On international flight you will generally restricted to 20-30kg and on domestic flight, you are allowed only 15kg. Packing everything in a soft bag or backpack (with carabiners) will make it easier to load into vehicles and to pack on animals rather than in a suitcase or trunk is highlight recommended.
GER to GER General Age and Suitability Related Travel Information
Our packages are suitable for almost everybody and age is rarely a factor; unless there are serious medical related matters that we should be aware of. A willingness to be involved, a good sense of humor, an easy sense of mutual respect for those of different cultures, a flexible manor and character with locals (Mongolia is a developing country), an eager desire to experience new and unusual situations will ensure you will greatly enjoy your cultural adventure regardless of your age. However, please do consult with us as some of our trips are challenging and/or physically demanding.
Recommended travel routes for children under 12 years of age:
Quest for the last Emperor 3-6days route in Bulgan
Nomadic lifestyle 2-6days route in Terelj National Park
In reality, Ger to Ger does not have a 'profit margin' built in for discounts as we are non-for-profit organization, however, we also do recognized the importance of not insisting on full payment for children under 12 years of age. After much consideration, we have decided the following:
We insist all travelers to take our Responsible Travel Orientation Lesson for $25.00 (per person) that includes info packets, cultural and language lessons, etc.
We will not charge children under 12 years of age that are traveling with their parents, however, parents must attend.
We have found services that are not needed to be rendered in full to children under 12 years of age and this also allows us to reduce the price a little more. Therefore children between 6 and 12 can pay 75% of community and 1-5 can pay 50% of community fee.
International Travel Insurance
For personal benefit and peace of mind, we strongly recommend travel insurance for you and anyone that you are traveling with. Policies must provide adequate cover for the loss or personal items and any potential medical expenses. GER to GER highly recommends that you purchase your Travel Insurance from World Nomads – http://www.worldnomads.com/
GER to GER Health & Safety
GER to GER has enjoyed nearly a decade of high level of client safety – below is one of many links that you can explore to gather more health & safety related information in preparation to your great Mongolia Adventure.
http://www.peaktopeak.net/stay_alive.html
Climate and Travel Season
Mongolia's travel and tourism season is mainly between June through October; though special interest travelers enjoy traveling to Mongolia year-round. Mongolia's summer extremes reach as high as 38° C in the southern Gobi region and 33° C in Ulaanbaatar City. Ulaanbaatar is located at 1,351 meters above sea level in the Tuul Gol river valley and owing to its location in the north, it receives an annual average of 31 centimeters of precipitation; almost all of which falls in July and in August.
International Tourist Visas for Mongolia
Mongolia grants visa-free access to citizens of 42 countries and territories between June 25, 2014 and December 31, 2015. For more information, please contact us or Mongolian Embassy in your country. GER to GER only provides official tourist visa invitations to those that have confirmed their booking and have paid a deposit. If you are citizen of China or Taiwan GER to GER will need to apply for visa on behalf of you at the Immigration Office in Mongolia with your passport copies and visa form. Once we successfully submitted your documents you can visit the Mongolian Embassy with your passport in 3-5 business days to obtain your visa.
For more detailed information please kindly visit the Mongolian Ministry of Foreign Affairs website.
Getting to Mongolia by Air
For those traveling by air,  Chinggis Khaan International Airport is the major international airport that is located in 14.7 kilometers southwest of the capital city, Ulaanbaatar. Mongolian Airlines and Hunnu Air serve Mongolia with direct flights from Germany, France, Russia, Korea, Japan, Hong Kong and China, connecting to everywhere in the world.
Getting to Mongolia by Land
For those traveling via land, the Trans-Siberian Railway made up of 7925 kilometers of continuous rail-line links Ulaanbaatar, Mongolia with Moscow and Vladivostok, Russia and Beijing, China. The journey from Ulaanbaatar to Moscow takes about 5 days and from Ulaanbaatar to Beijing takes about 32 hours. If you require assistance in booking train tickets, please contact us via our General Contact Form.
GER to GER Packing List
Below is a general packing list for summer and other recommended items for winter. Items such as tents, mattresses, sleeping bags and riding helmets are also available for rental from our office. Recommended summer packing list:
Tent
Basic first aid/personal medications (medical tape, band aids, medicine, etc.)
Antibiotics and aspirin
Re-hydration mixes
Antibiotic swipes for cuts and scratches
Clothing (for warm, cool and rainy weather)
Water bottle (cold and boiled water)
Backpack
Sleeping bag – rated comfortable down to -5C for summer trips, -15C to -20C for spring and autumn, and -40C for winter
Waterproof bag covers for when you are trekking/horse riding
Ponchos – Great for trekking in the rain and keeping your saddle dry
Waterproof pants
Mongolian language phrase books
Books about Mongolia history or nomadism are great!
Fleece jacket or warm sweater
Cotton t-shirts and socks
Long sleeve shirts
Lightweight traveling pants with zip-off legs to be worn as shorts and are fast drying is better.
Fast drying socks that keeps moisture out
Hat and bandanna
Long underwear
Headlamps/flash lights
Spare batteries
Toilet paper
Towel
Riding and/or hiking boots for trekking and horse riding
Tevas and/or water shoes for crossing rivers
Riding helmet for horse treks
Resealing (ziploc) plastic bags – bring enough to protect your documents, money, camera, binoculars, and other items from wetness, sand, and dust. A few extra bags are handy for repacking wet clothing until you reach your next camp and can dry them out
Water bottle that can carry both hot boiled water and cold
Binoculars/camera – carry in a soft padded case if possible
Wet tissues – choose unscented ones that will not attract insects
Watch/alarm clock – an inexpensive watch with an alarm is a handy item
Casual clothes for travel/city – you may want to bring an extra folding bag so you can leave any spare items in the hotel or at our offices
Insurance confirmation copy – must be left on file in our offices
Emergency contact number – must be left on file in our offices
Electricity – What to Bring
Mongolia's voltage is 220V, the same as the EU standards – USA will need to bring a converter, most sockets use two-prong connections that are sometimes thin rounded pins. As there are no strict standards on electric sockets in Mongolia, you might find different sizes and shapes; so please do bring a multi-pin adapter. In addition to adapters, we highlighly recommend that you bring solar power charger with you too – i.e. Goal Zero, etc.
Other items for winter:
Clothing (for warm, cool and rainy weather)
Sleeping bag – rated comfortable down to -40C
Winter jacket
Long underwear and top
Fleece jacket or warm wool sweater
Wool hat, gloves, hand-warmers, etc.
Scarf
Warm winter boots that can be worn while riding horses and/or hiking
Mongolia's Currency Policy
We do have some camping equipments for rent – our price list is shown below.
Note that prices will be different depend on rental duration.

LAW OF MONGOLIA ON MAKING PAYMENTS AND SETTLEMENTS IN NATIONAL CURRENCY
09 July 2009, the State Palace, Ulaanbaatar
CHAPTER TWO – PAYMENTS AND SETTLEMENTS TO BE MADE IN NATIONAL CURRENCY
Article 4. Consumption of national currency
4.1 Prices of goods, works and services shall by expressed by, and payments and settlements shall be made in only national currency on the territory of Mongolia and setting prices, making payments and settlements and announcing and promotion in foreign currency, calculation units shall be prohibited without an official consent of the Mongol Bank, except as provided in clause 4.4 of this Law.
4.2 Any settlements to be made from the state and local budgets, and to be financed by the budget shall be made in national currency and it shall be prohibited to make these settlements in foreign currency.
4.3 Definitions of amounts of fees, commissions and liability in laws and regulations of Mongolia shall be expressed in only togrog.
4.4 Monetary deposits, loans, any similar services of bank and nonbank financial organizations, a contract to enter in relation to financial derivative instruments and binding obligations under the contract may be expressed, and its performance may be completed in foreign currency.
Local Currency and Exchange Rates
The local currency is called "Tugrug" or MNT; as of April 2015 the exchange rate floats between 1900 and 1980 Tugrugs to the USD. You can check the official exchange rate from www.mongolbank.mn
The preferred foreign currency for exchange purposes is USD or Euro, but Pounds Sterling, Russian Rubles and Chinese RMB can also be exchanged in many places in Ulaanbaatar. If you bring USD, make sure the notes were printed after 1995 (the big heads rather than the small ones). Please kindly note that $50 and $100 bills will get a better exchange rate than smaller bills; ATMs are open 24/7 around Ulaanbaatar – they only withdraw in MNT with a limitation of 400,000 MNT (200USD =/-) per withdrawal. If you require more MNT you will need to make several withdrawals.
Does Mongolia Require Vaccinations?
No vaccinations are required for Mongolia, however, please check with your local health authorities or your doctor for updated information prior to your departure.
The World Health Organization recommends that all travellers be covered for diphtheria, tetanus, measles, mumps, rubella and polio, regardless of their destination. As most vaccines do not produce immunity until at least two weeks after they are given, visit a physician at least six weeks before departure.
Specialized travel-medicine clinics are your best source of information; they stock vaccines and will be able to give specific recommendations for you and your trip; this is especially important for children and pregnant women. Ask your doctor for an International Certificate of Vaccination, which will list all of the vaccinations you have received, and take it with you.
Office, Pre-Departure Orientation and Booking of Rural Bus, Rural Jeep, Camping Equipments and Community Services – Travel Guide, Travel Suggestions, Travel Tips, Maps and Equipment to get around Mongolia
All travelers must visit our office 2 days before departing on Ger to Ger travel for booking, payment and travel orientation policy. This includes filling in booking and disclaimer forms, Book and pay for rural bus tickets, settle any remaining payments: transportation (public bus and rural vehicle),travel orientation, and community fees.
Generally the mandatory pre-travel orientation lesson will typically take a couple of hours – lessons are offered twice a day at 10am and again at 4pm to which afterwards you will receive your travel pass.
Click here to access Google Maps Link to GER to GER Office
(print or use your device to locate us in Mongolia)
Rural Transportation Map for Public and Rural Buses, Private Rural Buses and Taxis across Mongolia – Travel Distances, Travel Guide, Travel Suggestions and Travel Tips
GEOGRAPHY AND TRAVEL TIPS!
Here you will find online resource information on how to get around Mongolia by using public buses and rural vehicles as well as recommended listing of locations that we may and may not travel too by Ger to Ger. Please keep in mind that travel times to certain highlight locations have changed recently owing to proper paved roads – ie: Mandalgovi (now 4 to 5 hours), Dalangazad (now 8 to 10 hours), etc. Please ask our office when you arrive for the most recent detailed travel times.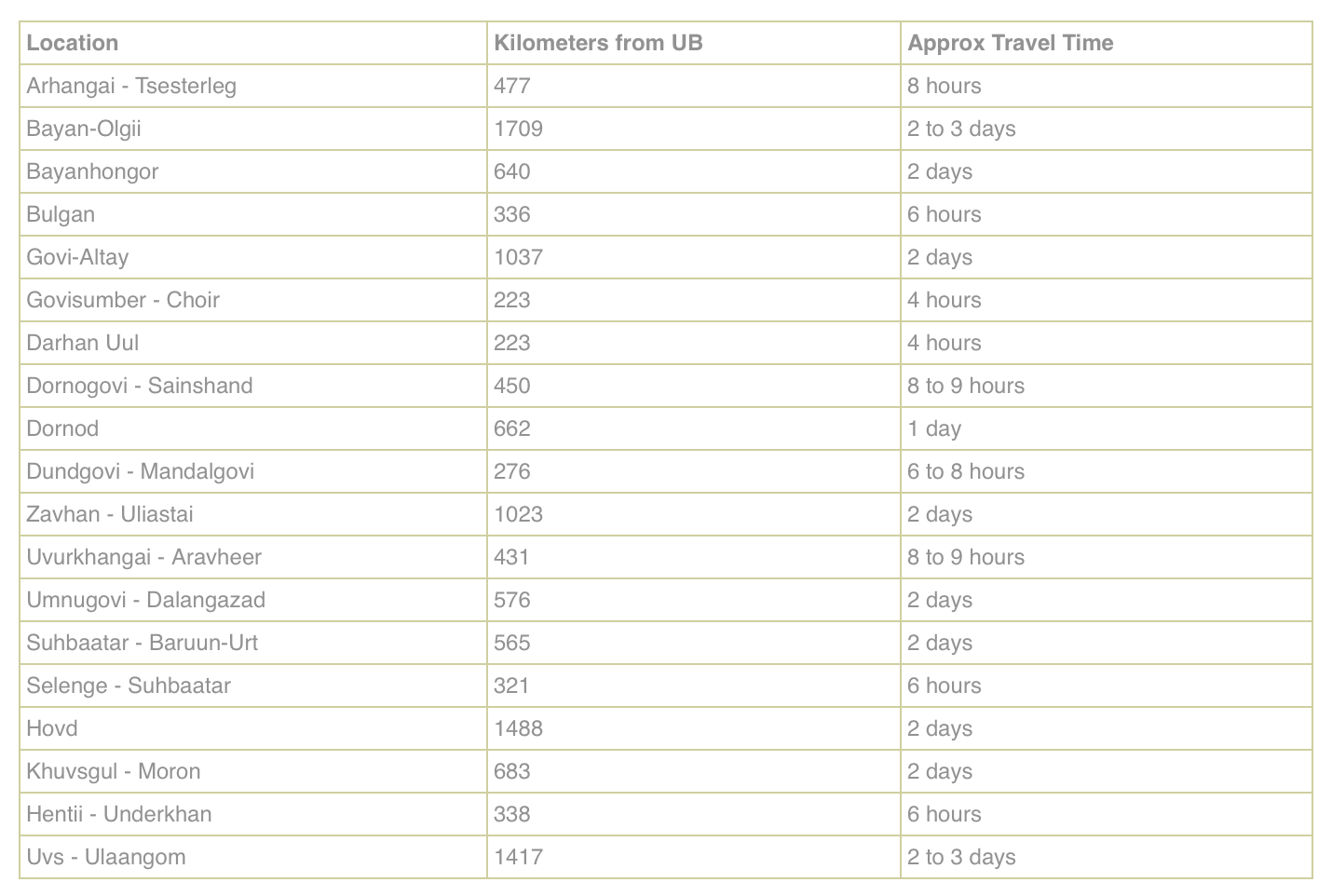 Road Notes: Though most of Mongolia's road are off-road (not paved) in the last few years there has been a massive effort to pave roads to key locations i.e. UB – Arkhangai, UB – Mandalgovi – Dalangazad, etc. Owing to these recent road developments most travelers will be traveling in "proper" coach buses (air condition, comfortable seats, etc.) from Ulaanbaatar to many provincial centers throughout Mongolia and then transfer via jeep to our rural routes.
Staying with Nomadic Families – Basic Info
GER to GER's focus in on bridging rural inhabitants and nomadic families with the greater tourism and travel industry – hence most of your rural stays in remote locations will be with nomadic families. This is where every traveler should become Ethnologist Explorers as it provides your the approach to immerse their ancient cultural ways of life.
Most of the time, to minimize our impacts, travelers will overnight in the nomadic families' extra ger (bring or rent a bag, etc.) while during the day-time you'll spend most of your days in the families' gers. Most nomadic families do not have formal toilets in their summer camps, though they make use of covered outdoor "pits" the landscape views are amazing! Please keep in mind that there will not be any proper showering facilities while staying with the nomadic families (you can bring a solar shower bag, etc.). Typically, nomadic families use basins in their gers or a nearby river for washing themselves. As for hot water for drinks, yes the nomadic families will provide you with boiled drinking water throughout your trip but please don't forget to bring your water container or bottle.
Local Foods
The local diet is heavily based on meat all year-round though in the summer Mongolian nomads make a variety of dairy products. Beside meat, Mongolians eat a lot of rice, noodles and fried dough. Meat is almost always well-cooked, most of the milk is pasteurized but if you have any doubts, please consult with your families. Local food tends to be greasy or fatty, and although basic vegetables are common fruits will become less available the deeper you travel into Mongolia's rural locations.
Information related to Stomach Illnesses
The most commonly experienced stomach disorder is slight constipation, rather than diarrhea as most of the foods are fresh and well cooked. If you regularly eat lots of fiber, we recommend you to bring a powdered fiber drink or something similar with you as a supplement.
Recommendation for Vegetarian Travelers
Basic information for vegetarians; please let us know in advance.
Mongolian food is highly dependent on meat and diet causing the dry continental climate. After a diet heavy on meat in winter, Mongolians have dairy products starting from late spring 'to clean the stomach' and dairy products are the main dish of Mongolians in summer.
Our nomadic families can serve you following foods:
All kinds of dairy products /cheese, dried curds, yogurt, milk, cream etc/
Cooked rice
Homemade cookies & bread
Steamed vegetable /usually carrot, cabbage, onion, potato and garlic/ etc.,
Recommended foods you can bring with:
Dried fruits
Packed soups
Instant noodles
Nuts etc
You can find plenty of pre-made soy meat that is perfect for travel and ready for eating at the State Department Store.