THE COMPLETE LIST of ETHICAL NOMADIC GEOTOURISM ADVENTURES ACROSS MONGOLIA
Humanitarian Geotourism Adventures with Nomadic Families are 100% Affordable, 100% Community Based, 100% Reality, 100% On Your Own with trained communities that earn 80% of the Trip Fee! These trips include 3 nomadic meals with unlimited hot tea; your own nomadic ger as specified; nomadic guides that travel with you on an average of 20 to 40+ kilometers per day across regions of Mongolia (deserts, mountains, steppes, pastures, river valleys, etc.) with horses, ox-carts, etc.; they are semi-all inclusive as we only assist with the facilitation of 'affordable' transports to/from locations, we can recommend hotels, translators/guides are additional service/fees, etc.
Group sizes:
min. 2 persons/max 6 persons
per person (p.p.)
Feel free to "book as guest" at NO costs
Deposits will secure your trip
When considering a trip with GER to GER please do consider your past experiences as it will influence your expectations… 
Trip Suitability Question 1 – Do you enjoy NON-RIGID itineraries/experiencing travel like old school explorers (changes to: times, activities, etc.)? YES/NO and why…
Trip Suitability Question 2 – Do you have any rural countryside/bush/outback travel experience (deep rural lifestyles, cultures, terrains, etc.)? YES/NO and details… 
Trip Suitability Question 3 – Do you ENJOY LEARNING about foreign histories, cultures, lifestyles, languages, outback navigation/safety, etc.? YES/NO and why…
Trip Suitability Question 4 – Do you ENJOY being pro-active/independent vs. passively waiting for everyone to serve/take care of you all the time? YES/NO and why…

If you are a "Quadruple NO" then we encourage you to consider our Tour Operations "Overland Expeditions" instead of humanitarian trips with nomadic families.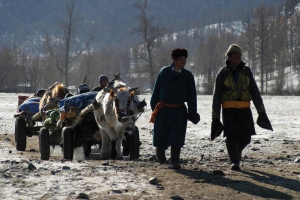 Mongolia's Nomadic Lifestyle
Celebrate Lunar Festival (homestay) with nomadic herder families, White Month is Mongolia's biggest nationally celebrated festival! It is customary to celebrate the first day of the
Read More »