Explore MORE about our operations
GER to GER Routes ACROSS MONGOLIA are truly versatile!
From travel to international film/TV productions for famed reality TV shows and races… GER to GER can accommodate any/all needs across Mongolia!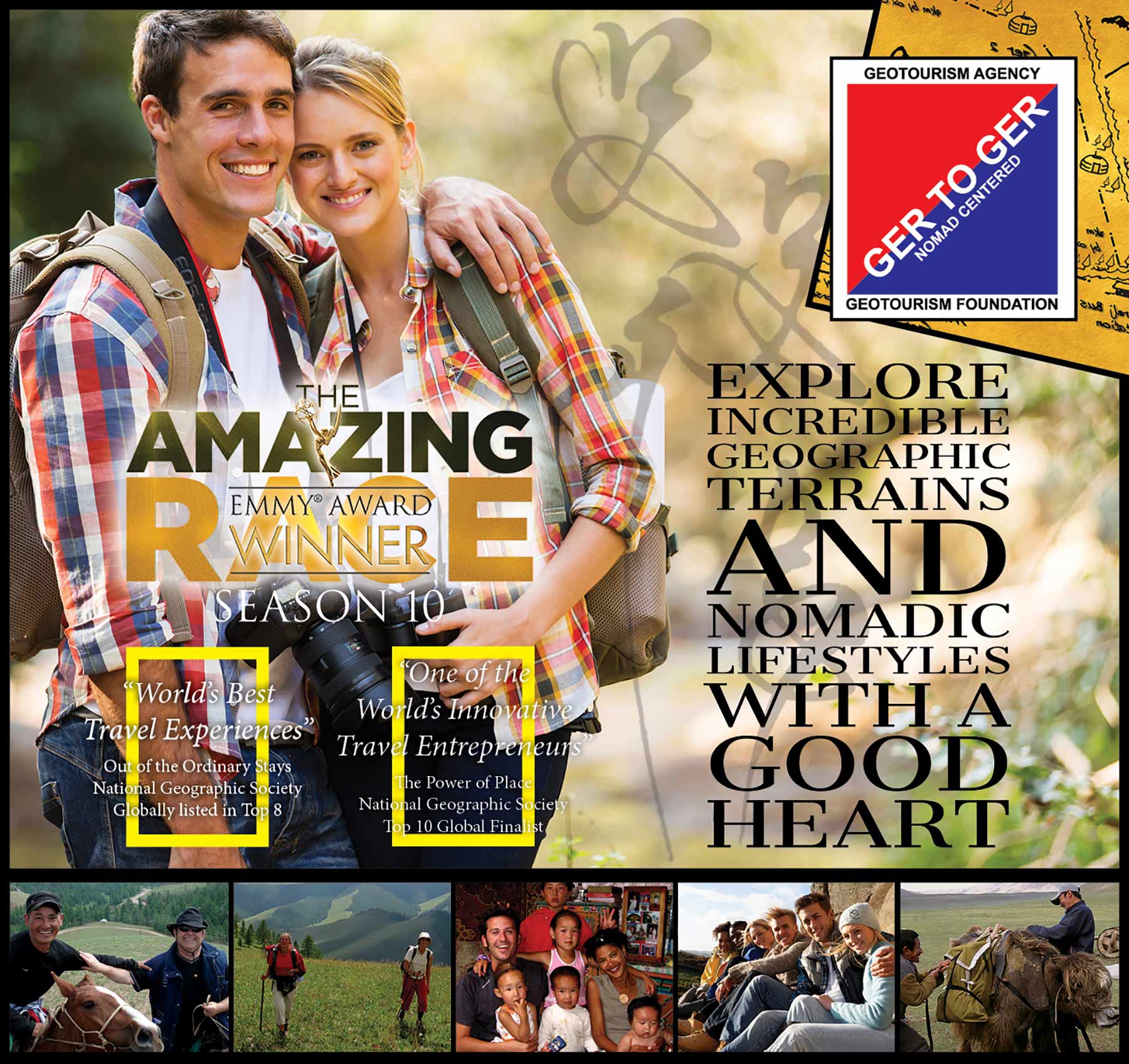 #1 SPECIALISTS

How YOUR company can benefit via GER to GER - Types of Offers, Seasons, etc.

Short List of OUR services
GER to GER is Mongolia's #1 Specialists in "RESPONSIBLE" nomad centered community based tourism that National Geographic Society refers to as "Geotourism"; Geotourism is defined as tourism that sustains or enhances the distinctive geographical character of a place—its environment, heritage, aesthetics, culture, and the well-being of its residents (via the UN's Sustainable Development Goals). You will experience an authentic "Marco Polo/Indiana Jones" adventures to explore, learn, experience, and give back to the locals via meaningful methodologies as a "GeoTraveler". GER to GER's methodology has been tested, tried, audited and AWARDED* for over 14+ years. 
*Today, in Mongolian History, GER to GER is the ONLY inbound tour operator/TV Production Specialists directly associated with the combined achievements (over a decade) that includes both an Emmy/DGA TV awards, Certified NATGEO Geotourism Ambassadorship & Certificate of Excellence, Mongolian Ministry Medal of Honor, UNESCAP Recognition and more! "The pursuit of "Excellence" is built upon the accumulation of daily habits…"; you can trust us to do our best in accordance with our established history of recognitions, honors and awards.
GER to GER Nomadic Routes across Mongolia are "extremely versatile" as they can be used for: 
1) Solo Trips - individuals/couples
2) Group Trips - family, friends, etc.
3) School Trips - high school, university
4) Summer/Winter Races - mountain biking, marathons, cross-country skiing, etc.
5) Home-Stays - amazing Basecamping!
6) Special Events - corporate team building
7) Film/TV Productions - reality, docs, tv, etc.
SHORT LIST OF GER TO GER'S SERVICES:
All inclusive packaged expeditions across Mongolia AND ALASKA'S INTERIOR
"Do it yourself" nomadic family to nomadic family travel routes - community tourism
"Educational Adventures" we support classroom cultural adventures across Mongolia
Overland transportation - buses, 4x4 jeeps, vans and more
Arranging accommodations, restaurants, in-country ticketing (bus, trains, etc.)
City and around city-tours and sightseeing opportunities
In-country "Professional Mongolia Briefing" conducted by a certified
NATGEO Geotourism Ambassador (training on culture, history, health/safety, language and more!)
Networks of nomadic families - choose from our operational areas (deserts, mountain, steppes)
Mixed travel activities with our Nomadic guides by horses, camels, ox carts, trekking, etc. 
Trained guides and interpreters
Options to have a nomadic family member to join your trip as a cook so you can focus on your trip activities and relaxation.
and so much more!
WHAT DO PEOPLE THINK ABOUT US?
Our Success Rate
Well over 95% are satisfied clients
CONTINUOUS ACTION IS MORE MEANINGFUL THAN WORDS ALONE – EXCELLENCE IS A SUSTAINED HABIT
"If you are thinking to take a tour in Mongolia this is the place to shop. Forget about all other agencies that offer traditional touristic tours with a English speaking guide, sleeping in tourost camps, etc.

 

Ger to Ger will place you in real nomadic family without a tour guide so you will be on your own, sleeping in real gers with family, eating with family etc.

 

I took 2 humanitarian tours (Dairy and Gobi) and no doubt one of my best experiences in my life."
We believe in good ole HONESTY; nobody is PERFECT, from 7,000+ SUCCESSES - less than 1% were displeased...
RESULTS FROM THE LAST 7,000 TRAVELERS
Liked the Humanitarian Trips - Just As It Is
Satisfied with the Humanitarian Trips - However Needs Improvement
Liked the Packaged Trips - Just As It Is
Satisfied with the Packaged Trips - However Needs Improvement
SEE WHAT "INTERNATIONAL EXPERTS" HAVE EXPERIENCED AND WRITTEN SINCE 2005 ONWARDS