At GER to GER, Nomads are Nomads.
 Suitability Checks are done with the Travelers – the question is – are you suitable to travel and Live Like a Local with Mongolia's Nomadic Families? GER to GER is not a tour operator that intentionally changes the Nomadic Families lifestyles, cultures, etc., so that travelers can enjoy a Western-European style of travel… it's about the travelers learning how to become more Nomadic within the locals' standards.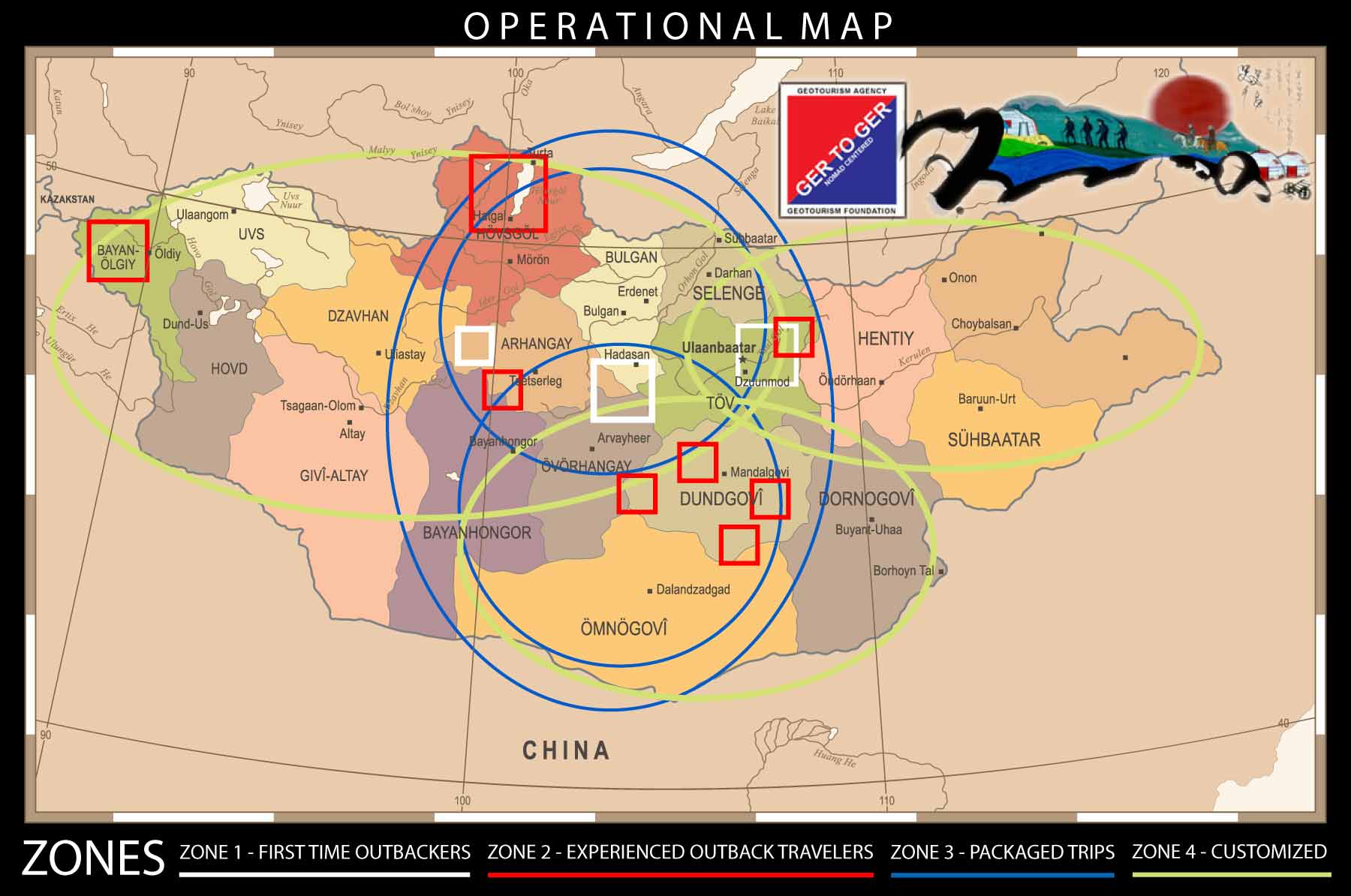 GER TO GER ZONING – AS OF 2019
Zone 1: Easy going circuits via nomadic family networks – first time outbackers and families with children.
Zone 2:  "Culturally Conscious" travelers who are experienced in the outback may travel on these nomadic family networks.
Zone 3 and 4: are Packaged Trips with guides, drivers, etc., are are open to first time outbackers, families and the more experienced.
All travelers are 100% responsible for choosing the correct "ZONES" for their experience and skill levels – if you have "Zero" outback experience and no previous experience with rural/bush/tribal peoples then you are required to choose: Zone 1, Zone 3 or Zone 4. First timers after completing at least one Zone 1 route are then accepted to travel on Zone 2 circuits with nomadic families.
When considering a trip with GER to GER please do consider your past experiences as it will influence your expectations… as we kindly discourage travelers booking inexpensive Nomadic Lifestyle Adventures with Nomadic Families with the goal of expecting/demanding "Packaged Trip" value (careful attention to itineraries, entertainment, etc.). Hence, please carefully review the following informations and our "terms and conditions". Thank you!
THANK YOU
WHAT DO PEOPLE THINK ABOUT US?
"If you are thinking to take a tour in Mongolia this is the place to shop. Forget about all other agencies that offer traditional touristic tours with a English speaking guide, sleeping in tourost camps, etc. Ger to Ger will place you in real nomadic family without a tour guide so you will be on your own, sleeping in real gers with family, eating with family etc.  I took 2 humanitarian tours (Dairy and Gobi) and no doubt one of my best experiences in my life."
Well over 95% are satisfied clients

15+ YEARS of EXCELLENCE
IS A SUSTAINED HABIT.
We believe in good ole HONESTY; from 10,000+ SUCCESSES – less than 2 DOZEN aberrations… 
Liked the "Live Like a Local Nomad" Humanitarian Trips - Just As It Is
Satisfied with the "Live Like a Local Nomad" Humanitarian Trips - However Needs Improvement
Liked the Packaged Trips - Just As It Is
Satisfied with the Packaged Trips - However Needs Improvement
CLIENT SUITABILITY
Please kindly note that GER to GER is refined for the more 'responsible', empathetic, open minded, non-judgemental and non-touristic type of travelers and explorers who do not have the typical 'touristic expectations' that desire something truly unique that is much more towards the exploration of the non-touristic and/or "REALITY" aspects of cultures, countries, environs, geographic terrains, etc… 
NOTICE TO ALL "LOW BUDGET TRAVELERS" (LBTs)
"RESPECT THE LAND'S HISTORY, RESPECT THE CULTURE, RESPECT THE PEOPLE'S GROWTH, 
MANAGE YOUR EXPECTATIONS via UPHOLDING INTEGRITY OF OTHERS"
It is mandatory that all travelers, especially "Low Budget Travelers" (LBTs), review the information on our "Term and Conditions" Page (link below) before booking online and/or visiting our office in Ulaanbaatar to book trips with local nomadic communities.
Thank You