Outdoor REALITY Adventures
across Mongolia
IN ADDITION TO OUR OVERLAND PHOTOGRAPHY JEEP & CAR TOURs
We specialize in NOMADIC TRAILS that offer live like a local nomad reality experiences, nomadic culture, outdoor trails (fitness, horse riding, trekking, etc.), self-discovery, cross cultural harmonization, etc., via CLASSIC GEOGRAPHIC EXPLORATIONS (mountain ranges, deserts, etc.) that are 100% managed/operated by nomadic families via our community-based tourism networks across Mongolia… it's about us, foreigners, learning how to harmonize within their nomadic environs.

PREVIEW OF OUR PHOTOGENIC OVERLAND JEEP & CAR TOUR SELECTIONS

REAL.adventures, REAL.cultural explorations, REAL.lifestyles, REAL.people
, 
REAL
.experiences, 
etc. 
GER to GER (MONGOLIA) is both FEATURED in, as well as, is THE OFFICIAL COUNTRY FACILITATORS/FIXERS/PRODUCTION MANAGEMENT of both
The 2006 Amazing Race USA (EMMY/DGA Awarded) & The 2019 Amazing Race Australia…
OVER TWO DECADES
 Rapid Expeditionary Development & SPECIAL PROJECTS
Helping LOCALs earn "ethical" incomes via ecotourism… via GER to GER.
At GER to GER we fuse modern luxuries (good 4×4 vehicles, rural accommodations, etc.) with classically "Mongolia" expedition experiences – rustic geographic terrains, nomadic cultures, rural lifestyles, etc… We try to provide that "definitively unique and true" Mongolia experience. As Mongolia is a vast country – there are literally countless cross-country expedition experiences that await avid adventurers, photographers, influencers and even those looking to expand upon their past experiences and/or step into the world of overland jeep expeditions!
GER to GER was established by both its Alaskan (USA) Founder in partnership with its Mongolian Co-Founder to creatively design 'tailor-made' travel packages across Mongolia that encompasses active adventures (horseback, trekking, overland expeditions, etc.), incredible landscapes, in-depth cultural experiences, historical sites and more. By doing so, GER to GER finances its community based tourism homestay initiatives "Live Like A Local Nomad Experiences" that assist nomadic families and their communities across Mongolia to earn ethical incomes via responsible/community based tourism – it's AWESOME being good humans!
It's "100% YOUR RESPONSIBILITY" to know the difference and choose responsibly.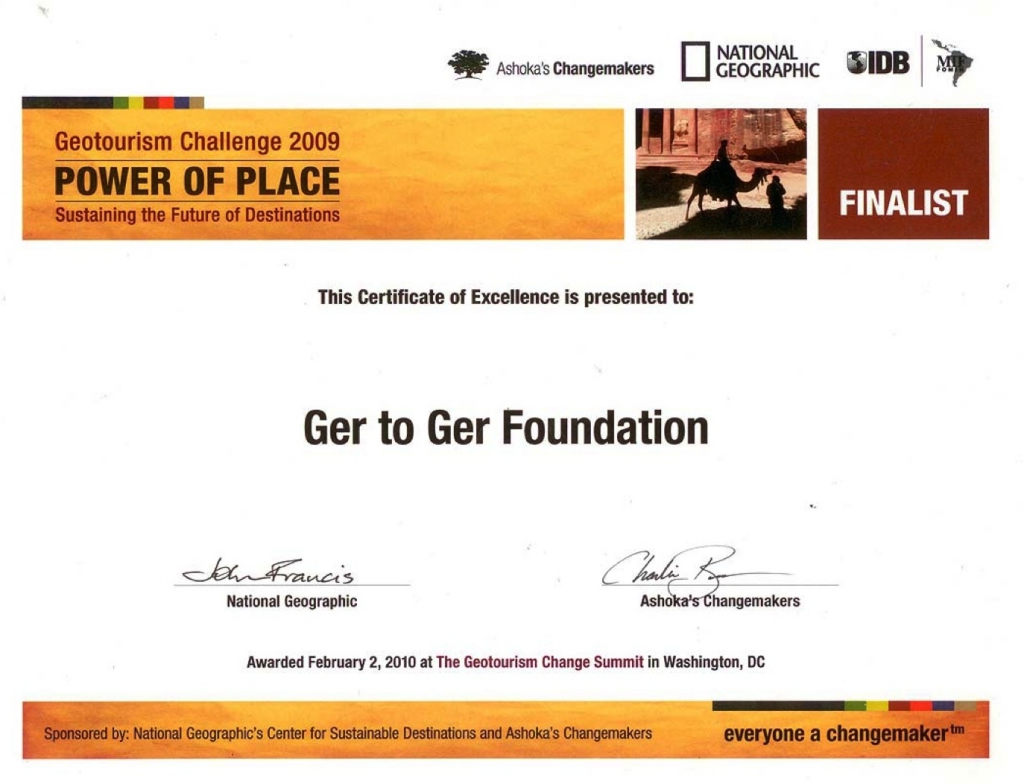 Geotourism is defined as tourism that sustains or enhances the distinctive geographical character of a place—its environment, heritage, aesthetics, culture, and the well-being of its residents.
SINCE 2010, FIRST WASHINGTON D.C. HQ CERTIFIED NATGEO GEOTOURISM AMBASSADOR TO MONGOLIA, TOP 10 GLOBAL FINALIST of NATGEO's GEOTOURISM CHALLENGE & MORE
Mr. Zanjan Fromer of GER to GER has been a National Geographic Society CERTIFIED GEOtourism Ambassador since 2010 (also listed with the Destination Stewardship Center) and was AWARDED the Ministry's Medal of Honor for Leadership in 2015. We are a Social Enterprise, Community Based Homestay and local Tour Operator in Mongolia that does "Good Tourism" via our Adventurous Nomad Homestays and Fully Packaged Expeditions Across Mongolia.
"If you want to get an idea of what traditional life in Mongolia is like while also staying off the beaten track, this is the place to book a tour. I did a three day tour in the Middle Gobi region and a 6-day tour in Bulgan Province. I stayed in Mongolia near the end of april, which is a good time temperature-wise. Both tours greatly exceeded my expectations, as did the service provided by GerToGer…"
"…I thoroughly enjoyed staying with these people and want to thank GerToGer. These tours were the best combination of feeling safe (knowing you can always call them in case of emergency) and experiencing something real and unique. Definitely a highlight of my travels, you can't miss this if you are visiting Mongolia!"